First Free Art Poster Workshop a Great Success!
On February 5 we held the first of our free in-school art poster workshops at San Rafael High School. Our guest instructor was Brian Narelle, a political cartoonist for the Union of Concerned Scientists, Earth Island Institute and instructor at the Charles Schultz Cartoon Museum. 21 students, under the direction of art teacher Annie Yi, took part in this highly creative workshop.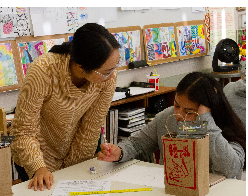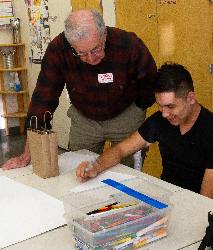 Brian working with student
Students collaborate on posters
Art Teacher Annie Yi offers suggestions
Bruce Burtch and Brian provide introduction to poster workshop

Mill Valley Community Center Hosts
Youth Poster Contest Exhibition
The Mill Valley Community Center is the final stop of the 2018-2019 Youth Poster Contest Exhibition Tour. The exhibition is now open, running through February 28.

The Center is located at 180 Camino
Alto, Mill Valley and is open 8:30 AM to 5:00 p.m., Monday through Friday.